Iain and Emma - Kingscote Church / Matara - 24th September 2010
The Scotts meet the Irish. This was going to be one eventful wedding, with a lot of guests. The Irish certainly have big families.
The day started in Tetbury, mainly in the pub, before moving on to Kingscote Church at the latest possible opportunity! Iain certainly knows how to have a good time, and definitely spent the entire day smiling.
Every good wedding day starts in the pub. It would appear drinking is a serious pastime when you're Scottish.
Wedding details with a Scottish theme.




Wedding guests staying at The Ormond Hotel, Tetbury got an early opportunity to get a photo of the Groom, Best man and Ushers.
September weather for weddings can so often be fantastic. It can also be rather cold, slightly windy, with light drizzle, which causes serious concerns when deciding what to wear.


Inside the exceedingly dark church, Iain waves at guests on the balcony.


Emma had a Piper play whilst she arrived at Kingscote Church. He then proceeded to continue down the isle - if not a touch earlier than when everyone was ready!
The Church at Kingscote was packed with guests. Theses are real size people, although somehow they look more miniature.
It's lovely to have friends sing (or take part in any form during your wedding), and created the perfect diversion whilst Iain and Emma signing the register.
I'm guessing at this point when Iain and Emma left the church, they noticed the little bridesmaid (flower girl) had pretty much missed the entire wedding ceremony!


Father of the groom finds something very funny.
The road from Kingscote Church up to the Matara proved a great spot for a quick couple portrait whilst en route.
Boys will be boys....and boys wearing kilts should also be very careful when jumping in the air for photos.
September threw up some unusually cool weather which meant much of the wedding drinks reception occurred inside at Matara.
Pee-poo


Set for the wedding breakfast inside at Matara.


Yep, that is a seating plan on a mirror? Now where have I seen this before????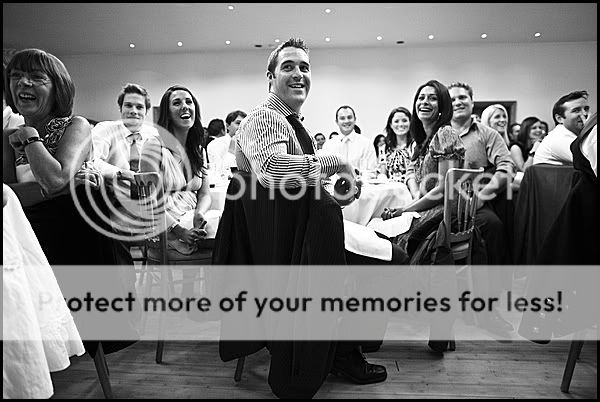 Iain liked pointing during his speech.


I've not seen 'Zorro' masks used as props during wedding speeches ever before. Dare I say it, Iain looked pretty good in his.


The best man was clearly pleased with this part of his speech.