Andy & Clare - Bibury Court

St Petersburg, Russia.....isn't the typical geographic location of my clients, yet somehow Andy & Clare managed to find themselves back in the Cotswolds for their November wedding at Bibury Court. Although they live a fair distance away, I still managed to bump into Andy twice over the summer at the Cheltenham Lido - go figure?

This wedding had some lovely detail touches (presumably Clare's doing?), and fine weather for a November date. Logistics couldn't have been easier either. Bridal preps at the hotel, then a one minute walk through the garden to St Mary's Church, then back to Bibury Court for the drinks reception and wedding breakfast. Total travel time - 2 mins!
Great colour and style for the bridesmaid dresses.
Wedding shoes with a little look of vintage about them......and for those needing to know, bought from Dune.
Below may need some explanation. Watching guests arrive out the window when in your wedding dress means you have to be discrete not to be seen. (unlike earlier when you are fine just standing at the window gazing out in a veil!)


* work it *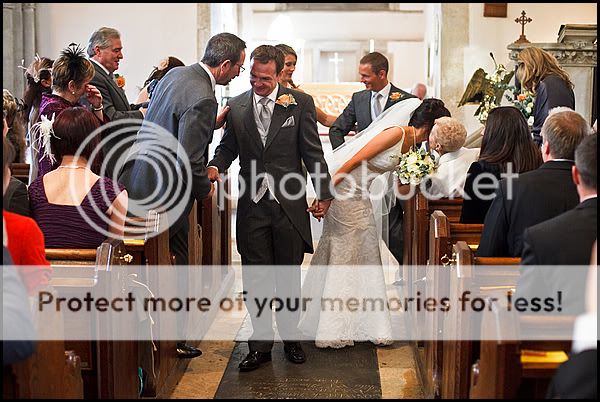 These two are officially the slowest wedding couple to ever exit a church. I literally thought they were going to stop and hold the wedding reception right there in the isle.
An aerial view of St Mary's Church, Bibury. "Wow Matt" I hear you ask, "how did you get up so high.....do you bring a ladder to weddings?" Nope, I climbed on the wall.....and let me tell you, it was a very high wall at that!


My assistant photographer this week had some nifty features on her camera. I felt a little inadequate with only a couple of Canon 5D2's, which don't support 'heart framing'.......
.......I went for 'natural' framing instead.


The last touches of autumn made for some beautiful colour in the couple portraits.
The main entrance to Bibury Court makes a great shot for a photo.


What cool wedding details. Clare (unless Andy did it!?) had made these vintage looking shots of friends and relatives who attended the wedding, plus a few who didn't. (They were the genuinely vintage wedding photos - I believe).

A fresh new idea for a table seating plan. It's the first time I've come across a suitcase full of name settings.....neat huh?
Andy and Clare had a few props at hand for an impromptu photo booth.


Inside Bibury Court was set beautifully for the wedding breakfast.....loving candle arbors on tables for a cosy winter feel.
Not many grooms still have the shirt they we wearing the first night they met their wife - Andy does......and it has a story behind it too.
That ribbon off your place setting comes in right handy? Note: only girls can pull this look off though. To see a mans take on this, check out the post earlier in the year from Kingscote Barn.
A few visual aids never go a miss to humiliate a groom.
The prop box certainly got a work out by these guests.