It's not often I start a wedding blog post with a detail shot, but Nikki's sparkly wedding shoes are the perfect bling that every girl needs on her wedding day :-)
Nikki and David got married at Kingscote Barn on a bright January day with crisp white frost blanketing the valley surrounding the barn. Or at least it was earlier in the day (and still in the shady parts), but little remained by my arrival around midday.
Hand crafted wedding details........do you see those frames.......can you tell it's chicken wire??? These frames were covered in family photos and had this great post card of two wedding rings engraved with the bride & grooms names in the center.


Ahh the wedding dress.....and the wedding dress smile. Only a bride on her wedding day knows of this special love!
Bridal preps took place inside the new accommodation at Kingscote Barn which has a beautiful light and airy feel. Perfect for us photographer too.


Mum was being discreet when it came to taking photos.


Totally love this look the bridesmaids gave David as they walked down the aisle before Nikki.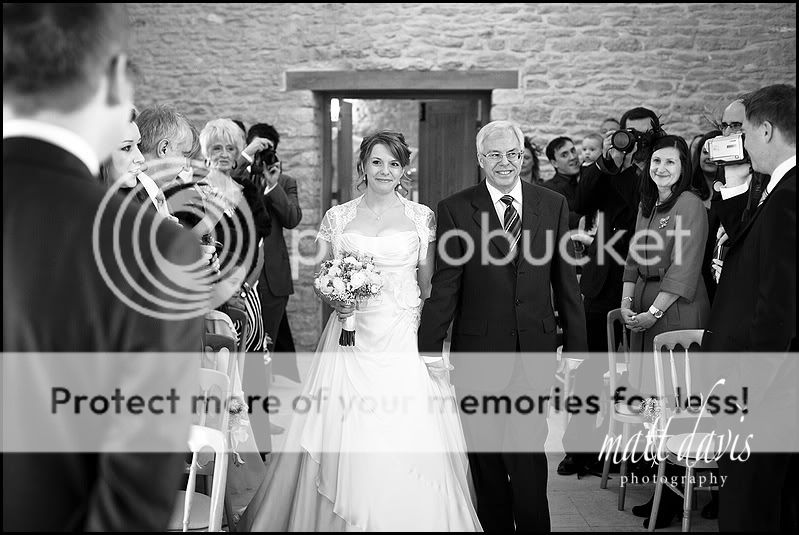 Yikes!


Ta na :-)
Mr & Mrs - Just Married
Although bright & pretty warm outside (for January) most guests enjoyed the wedding drinks reception inside at Kingscote Barn.


Sweet huh?


More bling shoes - this time not the bride or the bridesmaid either!


A few couple portraits around Kingscoet Barn as the sun was setting.


Ah ha....this is a new one for me. The wedding breakfast at Kingscote Barn was laid out as two long tables. This looked great and was a really sociable way for guests to chat to each other.


A few more wedding details around the barn.


Speeches were brief and not during the wedding breakfast, but instead prior during the drinks reception.


* Chink *
And what better way than to finish with a great dusk sky over Kingscote Barn as the guests settled down for some food.

Don't forget you can see more over on my Facebook page. Hop on over, 'like' it, get tagging your mates and share some wedding love. There are even more photos of sparkly wedding shoes too!