Last (ish) Saturday I wasn't at a wedding for a change, in fact I was at a Christening in the Cheltenham College Chapel.

Carina had contacted me asking if I would photograph the Christening in my usual documentary style....and who was I to suggest otherwise. Even smaller events such as Christening have a lot going on - maybe not as manic as a wedding, but the vicar was more accommodating than most.

The weather was fine, the guests great...including my serial stalker who I've now seen on three occasions over the past six months! Ahh ok, he's not so much a stalker, just a frequent wedding guest (aka 'a popular guy') and a great one at that as he's recommended me to soooooo many people.

Anyhow, here are a few photos from the time spent at Thomas' Christening.
Inside Cheltenham College Chapel is just awesome - and for me to say 'awesome' (seeing as it's such an American word), must mean it 'really is something special' (ahh, that's a bit more British).


The very kind Vicar let me take photos where ever I felt necessary. Now why aren't weddings so straight forward. Maybe it's just him - anyone have a wedding here soon - drop me a line, you'll definitely get photos of the service!? :-)
Just too entertaining for this young lady. I bet even the seating was hard - sometimes it's a hard crowd to please.
"Ahh a candle, I know what to do with them" - puff


After the ceremony in the chapel guests spilled outside to enjoy some fine spring weather in the College grounds.




Thomas must have ran up and down this doorway to the college canteen about 100 times!


One bench, one child, one drinks reception, one photo.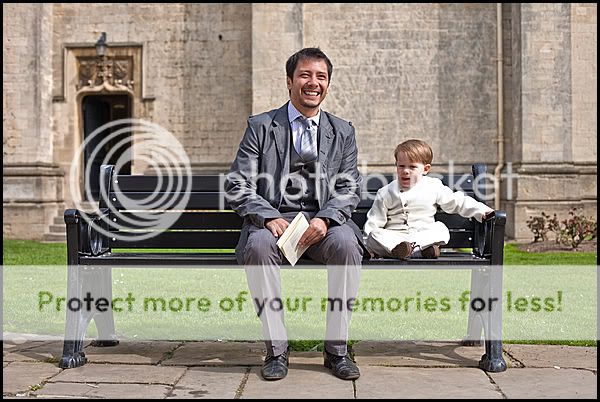 The grounds at Cheltenham College Chapel were great for a few photos, even if I wasn't taking them.
Such a cute pic of Thomas and his dad.




High FIVE!
Back to the Marquee in Highnam for nibbles and a chat before a bite to eat.
Thomas decided his white christening outfit was definitely best used for digging in the mud.


Food and drink - simple.
....and what better to do after a snack and some 'e' numbers - RUN.