James and Anick
Wow, another hot day. June is turning out to be a pretty good month for weddings. Although I'm sure a few of the men have other ideas when it's 30 degrees and they're wearing suits!
Dumbleton Church and Dumbleton Hall were order of the day last week for my 'international wedding'. Can I say that if the bride and groom are from Hawaii? James (the groom) has family connections to Dumbleton village, so it was a great opportunity for the couple to come home for a mini holiday, and marry whilst in the UK.
This wasn't my 'typical' wedding, as I was only with the couple for a limited time, but during this the focus was to be on couples portraits, rather than my usual mix of documentary and portraits. Fine with me, but I did sneak in some moments to remember too.....I just can't help myself.
Dumbleton Church. Blindingly hot, amazingly contrasty, but wow what a sky.....not a cloud to be seen.
At this stage Id like to point out the rather nice paper the florist used to mount these wedding flowers. We all need to advertise our business, and I felt this was done really tastefully. So, anyone wondering I'm guessing the flowers were by www.broadway-florist.com
I love this detail on Anicks dress. My wife had something very similar for her wedding dress too - great taste.
I like to look for new angles to photograph Dumbleton Hall from - (above) my first decision, (below) my second option!
You couldn't have scripted this better. I almost fell over myself to get this shot. Photography gold dust this. Three bridesmaids, all being cute, great composition and sweet light - OMG.
Aloha Anick - welcome to the church.
Cute bridesmaid moments no. two and three. How cool to have rag dolls, I swear the one on the right is waving at me! Pee-po.
Killer heels - or at least Anick found out they were after an hour hike around Dumbleton Hall's grounds.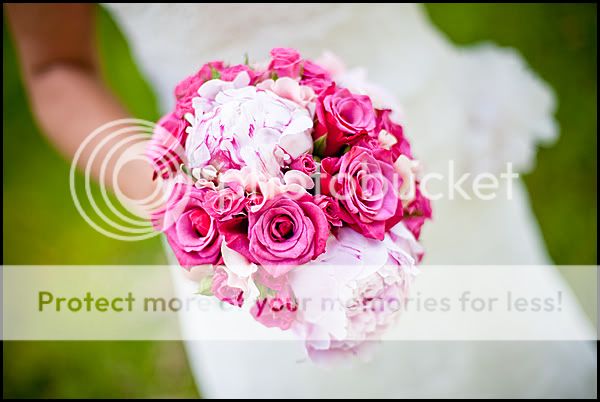 Ahh, my favourite photo from the day (on the left).
Client: "Matt, I'd like a photo that shows the romance and grandeur of Dumbleton Hall, with us in it too - I also like the road there!"
Matt: "How about something like this!" Click.
Sun in.......
....sun out. Yep, this makes life very difficult for me. Either be cloudy, or sunny....make your mind up weather.
I must say some very funny things during group photos.
More bridesmaid being cute photos.
A pretty sleek looking wedding cake. Best of all it's sat in some great light for a photo - good work Dumbleton wedding co-ordinator.
I love this photo - it almost didn't happen, but thankfully the couple 'just' poked through the gap sufficiently to see them.