Martin and Bryony
I only met Bryony and Martin a week before their wedding, at which point it appeared Bryony knew a lot about me. It soon transpired that she's a religious blog follower, so hopefully she'll be pleased with this post of her wedding from the weekend.
They married at a cute church in the village of Swerford, Nr Chipping Norton and followed on to a reception at Friars Court. It was another fine hot day too, which must be about the 10th wedding in a row...good huh!
Bryony holds up the handheld reflector perfectly for my photo.
Let's hope she is amazing or you'll have to get the card back off her at the end of the day.


Wedding hair - with REAL flowers I may add.
Bridesmaids look on thinking how easy it sounded in the shop....why's it so hard now!?
Eye spy very long eye lashes.
Still on the job. 3 pairs of hands, with one offering comments from the front. Note: the bridesmaid has even had time to get changed since the earlier photo!
OK, so now it's been discovered that the veil is in back to front. (I personally never knew there was a right and/or wrong way) Step up the chief bridesmaid.....thankfully she was listening earlier when they had the low down on how to unattach it!
St Mary's Church in Swerford, Nr Chipping Norton.
A cool five mins late.
dum, dum de dum.....here comes the bride and I'm allowed to take photos throughout the WHOLE ceremony - wahooo!


I really like this photo, sweet light and a typical wedding moment that's often missed of guests during the ceremony.
It's clearly been a tough 40 minutes for Martin.... or has he just remembered he left the iron on?


Five people, one church and one wedding car. Taken at 3:15 should anyone wish to know :-)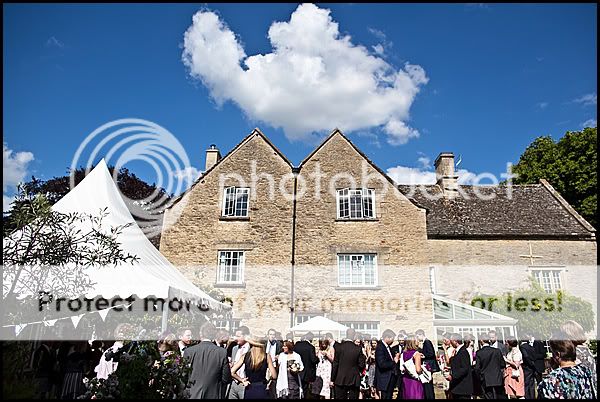 Outside of Friars Court with some fine weather for the drinks reception.


Friar Court's well renowned FAT CAT....or is he just BIG?


Waiting staff had downed tools and left wedding guests to serve each other - perhaps that's a cost saving exercise.
Once this lot got past the fact of having me stand 2 feet away taking a photo the jokes just kept coming.


This must be the fourth week running now of showing group wedding photos.
That's one really well tied tie.


Checking out the bling.
200m of bunting. Apparently dad is pretty gifted with a sewing machine.