Simon and Elizabeth - 19th Dec 2010 - Dumbleton Hall
I've never shot a totally white winter wedding, maybe a flutter of snow, but this wedding was something all together more fairy tale. Simon and Elizabeth are a lovely couple, very easy to photograph and truly amazing at hanging around in the snow for photos despite sub zero temperatures.
The whole wedding was held at Dumbleton Hall in Worcestershire. This did make it a little easier as at least there wasn't any driving between churches and reception venues.....phew!
I had to pop up a couple of teasers prior to Christmas (see this earlier Dumbleton Hall post), but here now we finally have a fuller collection (and yeah....it's probably too many but it's been hard to choose, so I just included LOADS!)
The sheep at Dumbleton Hall definitely in need of those thick wooly coats!
I'm not sure who this is doing Liz's wedding Make-up but t looked great. Drop a comment at the bottom of the page if you know.


Liz had lots of bridesmaids - I think five in total. All the girls had black bridesmaid dresses which looked great for the black tie wedding and perfect set against the snowfall.
Don't ask???
Two ushers, three pints? Ummm?


Simon and his Best Man. I must say, looking 'quite' serious.


Sometimes photos are just given to me as a gift. What better way to show the super veil Liz had to accompany her wedding dress.
The 'pre ceremony' bottle to keep children quiet - I see this pretty often....it's a smart move by the parents.
I love this photo. Such great light and the most beautiful expression when Liz and Simon both meet for the first time.


Come on - who stuck a piano in my way?
How cute is the little bridesmaid - so excited she's literally left her seat!
....and for my favourite photo no.2 (ahhhhh).




14 people all coaxed out willingly into the snow for a bridal party photo.
Cool wedding cake and ohh how appropriate.


Wedding speeches were in two parts, one before dinner in Dumbleton Hall lobby, the others after the wedding breakfast.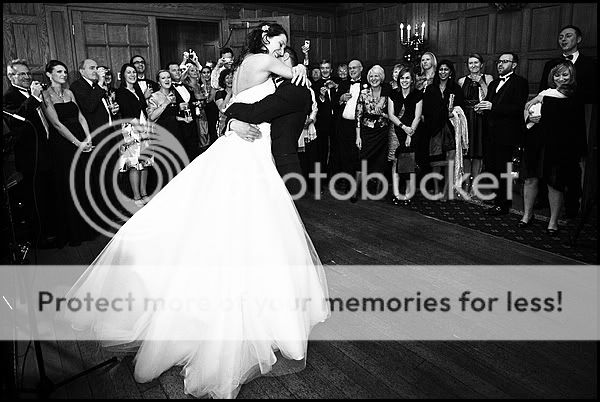 The evening disco (or swing band in this instance) is pretty much the highlight of a wedding day for little Bridesmaids I'm sure. Staying up late, partying like a grown up, drinking copious amounts of coca coca - wicked!
A packed dancefloor, just what I like.


Candle light, a black-tie winter wedding and a punchy b&w photo of the wedding couple - perfect.


One of the youngest people on the dancefloor!
If I was a sheep I'd huddle under those trees for shelter too - it was super chilly when I took this photo.
If you're thinking of having a winter wedding yourself, or getting married at Dumbleton Hall, then please get in touch. I live in Gloucestershire, but often work in the neighbouring counties, so despite being a Gloucestershire wedding photographer I often find myself covering events in Worcestershire too and would certainly love to be involved in your day.