I'd been cruising around the Cotswolds last weekend for the wedding of Ben & Emily at
The Great Tythe Barn
, Tetbury. With sideways rain and 100mph winds the day before I did have slight reservations that it could be a testing wedding. Alas, the rain thankfully resided although the winds didn't let up, but this did make the logistics a little easier.
Sweet wedding shoes - I'd not seen a pair like these before....kinda vintage looking. Probably best kept dry to if they're suede (OMG, did I really say that.....?!)


Wedding dress, sash (is it called that?), broach - simple.
Why is this funny you may ask. Well.....note: helpful bridesmaid behind Emily. Now note: less helpful bridesmaid in front who at this point said "should I look as though I'm doing something?"


Back to taking photos for the 'less helpful' bridesmaid. ;-)
Ben worked his ushres hard this wedding day. Standing around with his hands in his pockets whilst they were made to tie his tie! Looks like it's gonna be a tad short to me if you start at that length!


Inside of The Great Tythe Barn set ready for the civil ceremony.


Is dad getting something from his pocket here or pulling off a camp expression??? Maybe that's what they're laughing about?


So, the ceremony is about to commence, but first you'll need to see the registrars. They ask stuff like name, DOB, blah blah blah. However it's usually the time it all suddenly dawns on you that you're about to get married too. (see below!)


How cute are these two bridesmaids? They almost look like miniature people you could pick up and pop in your pocket?


At this point it's worth noting when I say "LEAVE A GAP BETWEEN YOU AND THE BRIDESMAIDS WALKING IN" more than 4' is preferable! Yikes, just got you though. Emily's sister gave her away and what a cool outfit she had.


Hello hubby :-)




Ahh the camp jokes have finished and we're out with the tissues.....probably a good idea.
How did that glass of water sneak into my shot?


During the wedding drinks reception a slideshow of photos was set up for guests to see......
.......this little man (below) was clearly thinking more about the wedding breakfast and his rumbling tummy though. (kids do such random things - gotta love 'em)
"Look I can point, watch a slideshow AND suck my thumb at the same time"


At this point I'm beginning to wonder if I took photos of anyone else at the wedding?


With 100mph winds and a February chill in the air, couple portraits needed some careful consideration. Finding some winter colour, a 'less' windy spot, great light and noting messing up my backgrounds (like a well hidden vending machine and 2 neon signs in this photo) was defiantly a challenge.


Ben looked pretty sharp in his wedding suit and red tie - even if I do say so myself.


OK, this is most definitely the last photo of this same little boy. REALLY.


Inside The Great Tythe Barn set ready for the wedding breakfast.
Emily's bridesmaids covered the speeches, bringing along several props and lots of enthusiasm. Good work girls.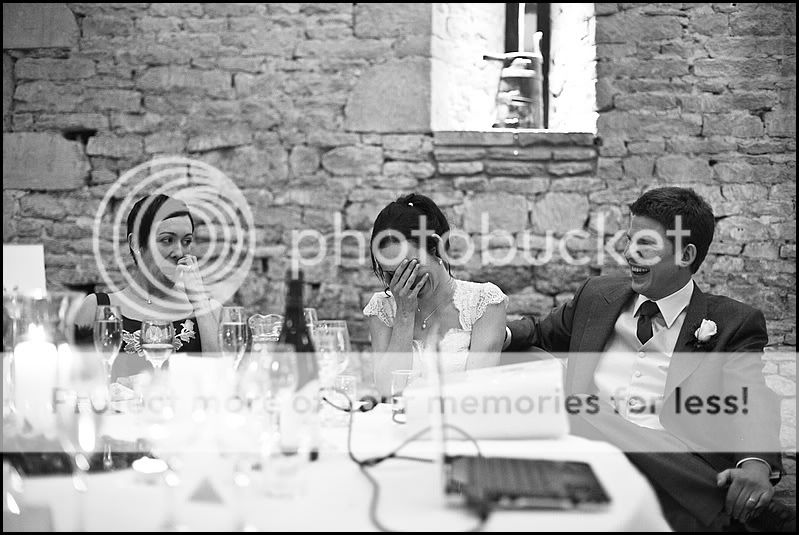 This MUST be the moment he told about how they met on Match.com


Ahhhhh.


Slideshows.....great for silhouettes, otherwise almost impossible to see what's happening in the room with the lights are dimmed! ISO6400 - there we go (only photography geeks will get that)


A great photo to finish on as this Cotswold wedding photographer is off for a beer of his own. I hope you've enjoyed the photos, and please let me know if you're thinking of having a wedding in the are and need a local wedding photographer.