Being a
Cheltenham Wedding Photographer
and shooting a wedding IN Cheltenham is always a treat. Last (ish) weekend I was at St Marks Church and Pittville Pump Room for the wedding of Tim and Carolyn.
Despite it being February the weather was surprisingly good and made for a great wedding day.
It's not often you have a bunch of wedding flowers in your hand to carry around all day....it makes most bride smile :-) Now, nip off and get your wedding dress on; a veil, jeans & striped shirt really isn't the look I'm after.
Not one, not two, not even three, but FOUR bridesmaids, all with their eyes open and no one pulling a silly face - wow, that's the holy grail of documentary wedding photography.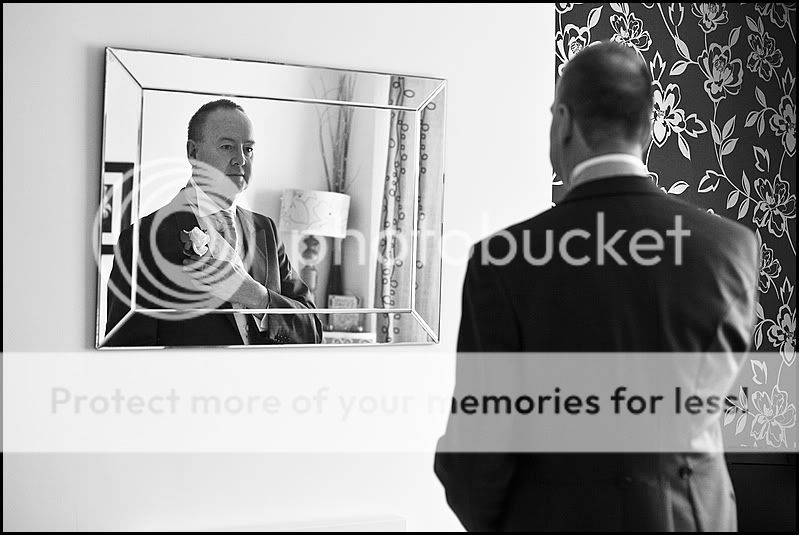 Check: Button hole on the right, or is it the left? This must be the most frequently asked question on a wedding day. I work on the principle, blokes on the left flower up, ladies on the right (optional flower down - but up usually looks better). As to if that's right I have no idea. May I suggest all brides, mother of the bride, groom, best men, bridesmaids etc etc etc Google this before the day and find out.


Like father, like son. Tim and his dad chat away to Paul the Vicar....who I must say was very reasonable about photography inside the church.


St Marks Church in Cheltenham.
It's important to keep bridesmaids fenced in otherwise they can be prone to escaping before the bride arrives.




Pre ceremony nerves or a funny joke?
Rain? Who forecast rain on your wedding day? As you can see, one bridesmaid did indeed escape and helped with the wedding dress - good work.


It's a great look on Tim's face as he watches his bride walk up the aisle.


At this point it would appear that I can be in three places at one time, which astonished me when I saw the shots I'd taken. And in all seriousness folks, this is one reason why I'm happy to work as a sole wedding photographer and don't feel the need for two photographers over powering your day.


Ahh look at them, all lovey. You're meant to be concentrating on the hymn!


Okay: Wedding Flowers. Especially BIG BUNCHES in front of a lectern when you have 'shorter' (excuse me for generalising) guests doing a reading. Ummmm.....????? As climbing on the pews wasn't an option to gain a little extra height I settled for my tip toes, to 'just about' see this lovely lady do her reading. Wedding tip no. 2 today - I'm feeling so very helpful.


If you have small children at your wedding may I recommend parents who would like to miss the actual ceremony and ideally sit with their child playing games. May I also suggest, watch out for games with noisy bits - as theses two found out during a quiet part of the ceremony.


If you think one of four bridesmaids is likely to pull a funny face (as spoil an otherwise beautiful shot), simply chop their heads off and focus on the flowers. * Documentary wedding photography tip no.2 *


A quick Q&A.
"Was this posed Matt?" - No.
"Are many of your photos posed Matt?" - No
"Do I still get lovely photos of all my details and pretty things" - Yes, especially when you stand in great light with a bunch of flowers and hold them just right.




Two videographers, one photographer (+ moi) and only two people throwing confetti! Multi-media overload.


I have no idea what this is about but liked it. Maybe it'll make sense to the wedding couple?
This is one of my favourite photos from the day. Why? Well, it's a naturally occurring moment, it screams 'WEDDING' with all theses elements in one frame (Wedding car, wedding guests, bride, confetti, smiles) and is held together with this great connection (almost symmetry) between the two hands. So, that's why I like this photo. I also rather like the photo below too, but I won't bore you with why...it kinda is self explanatory.


Inside at Pittville Pump Room - set for the wedding breakfast (around 120 guests for the train spotters out there)


Groom with drink - bride without. Clearly she has her hands full. I'm thinking drop the dress and grab some bubbly now you've checked out the wedding cake.


He's one funny photographer - maybe he'll make a good assistant for my next wedding. Always good to charm the guests.....the lady on the rights not married either :-)


I've popped this photo up (as I like it), but then it dawned on me perhaps you'd not understand it. Well, for those that don't it's taken from a babies buggy perspective....get it now?




February can be a little chilly in a bridesmaid dress.
Warming up for the speeches.


Wedding group shots. The glue that holds all weddings together - or so everyone assumes! Without them wedding planners are lost, caterers wonder what's going on, guests walk around with an air of confusion. Granny whispers to grandad in a loud voice (old people whisper loudly, which is somewhat ironic) "when's the photographer going to do the group photos dear?" Well wait no longer........here we have a group shot.
And no sooner have I arranged the perfect group........I hear, "Quick grandad, get a shot of that, they look luverly." Don't mind me :-)


So this isn't your usual photographers angle on wedding speeches but it's a great way to show the bride and groom relative to their guests. Better still with a super reaction from the groom and mother of the groom we got ourselves a winner :-)
What better to finish on than a beautiful shot of Pittville Pump Room in the gorgeous evening light.