Steve & Kim - 10th June 2009
Sweet, a lovely warm day for a mid week wedding at
The Matara Centre
. I'd not been to Matara before so was excited to check out this fab wedding venue, with its beautiful grounds and tranquil style. Not only is the venue laid back, Steve and Kim were too. I found the pace quite different from the usual frantic weddings I shoot and I even had time to stroll around the grounds by myself.
Bring on the wedding photos.
If I walk into a room like this for brides preps I just know it's gonna be a good day. Light fantastic and plenty of room to shoot.
....add one cute bridesmaid (and mum!) and it's yet another plus in my book.
Such a great smile. Perhaps it the double Jack Daniels?!?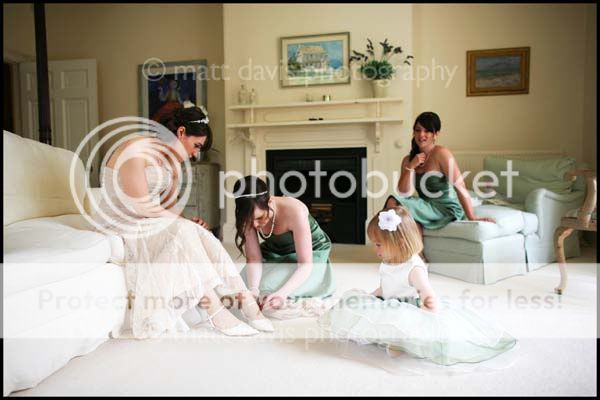 Love this photo above. When four people fall into place for a shot like this it's photographer heaven.
This is one of my favourite documentary photos in a while. Dad was totally unaware of the comedy moment he'd provided me by standing in front of these flowers.
Matara's outdoor ceremony held in the ornamental garden.
Ok, favourite photo no.2 for the day.....Kims fantastic smile at Steve.
Cute details were spread throughout the reception. Lorraine and Paul will be pleased with this one!
Ahh, did I mention the cute bridesmaid.........sooooo sweet.
A worms eye view. Yet again I've been wriggling around in the gravel.
Yeah.... I've finally got my badge in 'making slideshows work again'! How long it'll last, who knows.....!