Mark and Jo
Holy Trinity Church, Minchinhampton / Chavenage House, Tetbury - 25th Sept
When I first met Mark and Jo they were really enthusiastic about great photos, yet truly worried about standing around all day in front of a camera (as are many couples). Hence the introduction to myself.

Jo is a born worrier, I must have had about 100 emails from her running up to the wedding (ok, well, maybe two or three!), yet she's such a great bride to photograph - full of emotion and just enjoying the day....if not in her own slightly panicky way!

The girls started the day at the hairdressers, so I met up first of all at home, once they were all spruced up. They were running slightly later than planned but really all Jo needed to do was get into her dress! Ummmm???? It's surprising how many distractions one bride can find, and how much reassurance from her bridesmaids everything was going to be ok! Bless.
So, I'll let the images do the talking following the great day I had with Mark, Jo & their families at Chavenage House last week.
Jo's bridesmaid (also called Jo) giving some reassurances!

Jo's mum (not called Jo) giving a reassuring hug! (are you getting the idea so far!???!?)


Jo's slippers were an entertaining part of our morning. Note: still no closer to actually getting her wedding dress on!


Dad was ready earlier than the rest of the household (as is typical), so spent a lot of time pacing up and down, clinging onto his speech!


With about 10 mins to spare, JO did actually get into her dress.....even the little bridesmaid is surprised.


Yes, that is the videographer behind Jo, helping to button up her wedding dress! All hands on deck - well, apart from me....I'm a photographer, never have been good with wedding dresses and stuff!
This is SUCH a fab photo. (I'm in it LOL - check out the hallway mirror). OK, no it's a great expression when Jo's dad sees her in the wedding dress for the first time. Priceless. The sequence that followed had to be blogged too.


Jo's dad provides some reassurance!!!!


Jo very nearly crying 'again'!
Phew.....left the house with about 5 mins before the ceremony was meant to start and zipped down to Holy Trinity Church in Minchinhampton.




I love this photo. Flippin' difficult light here, so this silhouette of Jo and her father worked perfectly.
Finally Jo stops crying and Mark started.




Inside Minchinhampton Church is MASSIVE. Really bright and loads of room to take a few discrete shots from alternative angles.


The very nice Vicar allowed photography during the wedding ceremony.
Ahhhhhh.....
This was a superb spot for signing of the register.
No one pulling a silly face - fantastic!
Grandad - you gotta love grand parents at weddings. Note: Jo looks very close to crying again!


The wedding cars with a bountiful supply of bridesmaids, plus the bride and groom.
Outside on arrival at Chavenage House.
Ahhh...yep, more tears. Jo's mum made the wedding cake (I believe).


The weather was warm enough for a drinks reception on the lawn at Chavenegae House.
Everyone ask me about group photos - "yes I do them"....here you go, this weeks shot!


itable plan
Inside the main hall for dinner at Chavenage.
If you look closely you'll also see the caterers (Williams Kitchen at Calcot) had a waiter with no arms - amazing huh! I ate at this wedding too and the food was fabulous.


Jo's dad does a quick pirate impersonation for the speeches.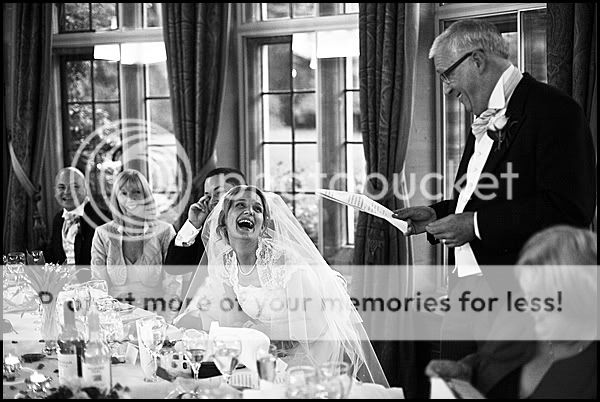 Totally love this photo. I'd not remembered taking it, so was super pleased when I looked through my photos and found it.


The question is, did mums cake taste good?