Dave and Lucy - St Mary's Church, Tetbury / Chavenage House

Lucy and Dave are another couple who I'd not met prior to their wedding day, which is certainly becoming more common practice. It's therefore great to finally meet someone who you've emailed and spoke with over the phone, but not necessarily met in person.

If a winter wedding is your plan, snow has to be the icing on the cake. It's probably best not to wish for too much though as it's better your guests can attend than you have the perfect white wedding with no-one there! Thankfully, Lucy and Dave's wedding day had just a light dusting, which gave the day a winter charm, without the chaos that typically surrounds it.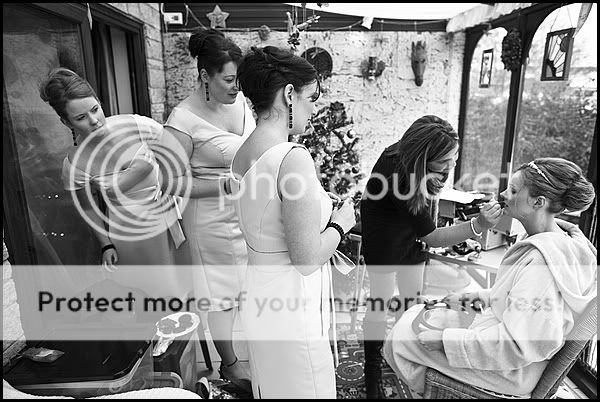 Make up was by Clare at Purepampering.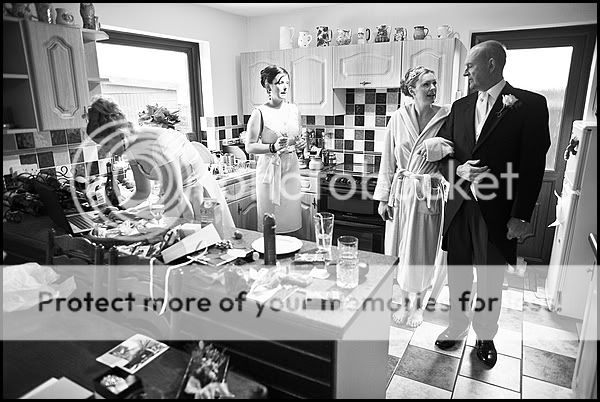 It'll be down the aisle and Lucy will be out of that dressing gown and into a nice wedding dress the next time they do this! Music was supplied courtesy of Youtube and 'The Arrival of the Queen of Sheba'
This usher spent a fair while peeping out waiting for the bride. Lucy was at least 15 minutes late....... and blamed the snow I bet!
These are two photos I personally rather like. It's so typical of a wedding day....all the bridesmaids get out the wedding car, find someone nearby and off load all their stuff onto them!
I've never before seen a chauffeur wash the wedding car down before the bride gets out - how good is he? Dad however (in the background) doesn't look so interested. LOL.
For the fine eyed amongst you please note Lucy's sister (Chief bridesmaid?) sheltering Lucy's hair from the rain. Wow..... dedication huh?
St Mary's Church, Tetbury is MASSIVE inside. It also has these remarkably tall pews.
On this wedding day the vicar said "You can only take photos of the bride as she walks in, a staged signing of the register shot and the bride as she walks out" (ummmmm I thought). He continued "it's possible to take a photo from the balcony, but H&S means you're not allowed......please read into that as you wish"
OMG.......I'm just a photographer, can I have a simple - YES you can take photos or NO you can't?


As you may have noticed I went for the 'RISKY' option and took a photo from the balcony. You'll be pleased to hear, I survived. It supported my 11 1/2 stone weight without collapsing, and I didn't lean over too far and fall off :-) (Matt 1 - The Nanny State 0)


Who scripted rain for when we left the church? Come on, as if slippery pavements aren't enough, rain too?


What a helpful wedding guest. Note: this isn't a bridesmaid either.
Chavenage House had the red carpet down for Lucy's arrival. Okay, so it was black rubber, but who'll know in a b&w photo!


The wedding car chauffeur was in charge of keeping the sleet off the lovely ladies (and Dave) for a couple of quick outdoor wedding group shots. At -3 degrees I can understand the bridesmaids may feel a tad chilly.


No idea who this dude is, clearly important to Chavenage House though and quite probably keeping an eye on all the pesky wedding guests!
Each week you'll notice I have a different assistant wedding photographer. This guy was very good, discrete, had a cool little camera, didn't get in my way and provided excellent opportunities for me to snag a shot 'over his shoulder'.


Winter wedding portraits with damp conditions and an overcast sky definitely restrict my options! This doorway at Chavenage House made a lovely spot, keeping the couple a touch closer to the inside warmth too!!
Wedding gifts for every guests. Can you guess what it is?
The table decorations looked fab. Candle arbors definitely give winter weddings a cosy feel. I also really like flowers in jam jars - simple and understated.


You're wondering what an earth that table name is right? Well think Christmas Weddings, Christmas Carols, 12 Days Of Christmas and 'Five Gold Rings' - clever huh!?
Lucy bought books and wrapped them individually for every guest as wedding favours. How cool is that? Apparently it was an idea she wished she'd never undertaken though.....wrapping 100 ish books takes a wee while!


As Lucy and Dave sat for their wedding breakfast, guests sang the 12 days of Christmas.....with a slight tweak personal to Lucy to include her childhood cuddly toy bear.