With all the hype of the Royal wedding will we now see an upsurge in couples getting married? Who knows..... but my weekend around the 29th April was certainly a busy one, although sadly I wasn't nominated to be the Royal wedding photographer!
I was however shooting at Kingscote Barn for the lovely couple Dave & Jessica......and let's be honest, the better weather was on the Thursday and Sat.....not friday!


The driveway down to Kingscote Barn was lined with this gorgeous bright yellow oilseed rape.....it can only mean one thing - spring has arrived.
Kingscote Barn nestled at the end of it's long drive set amongst rolling Cotswold countryside and traditional Cotswold stone walling.




Green bridesmaid dresses appear to have been something of a wedding trend lately. They look really great in spring and this outfit with matching shoes was trick!
Why do I like this photo? Well......anything in 3's always balances nicely (a rule of thirds!) so that's one tick box. Mum has a fab expression - two tick boxes. The white gloves - they always make me smiile!!!! But, (most importantly) the green bridesmaid dress is back in action, this time alongside the mother of the brides baby blue outfit. Why is this so important.......? Well, for those of you with an eye for colour (or the design types out there) blue and green sit next to each other on the colour wheel, meaning they just work together! Simple huh.......or did they plan it, I wonder?




One-Two-Three (you get the idea about how to take photos now right?). It's a back of the dress shot, but also has the bridesmaid and mum all in on the action. However, as a professional photographer I'm never happy with just one shot, so you can see below I moved on in my composition and included the pretty heart in my next frame..........alongside the brides expression in the mirror too! Is it wrong to give myself a pat on the back?? :-)
Only on your wedding day would you allow someone to look up your skirt!




Kingscote Barn bathed in sunlight. It's blue and green again - I'm noticing a theme for this wedding.


This was a sweet little wedding detail. The whole thing said 'LOVE' (but you guessed that right). Not sure where it was from, I've not seen one before - anyone know and care to inform me? Always handy for brides looking for something similar :-)
The three amigos. This isn't a posed shot (despite it's possible appearance). It was taken as the groom and his two best men were awaiting the brides arrival....and I'm guessing they were looking up at the string quartet playing in Kingscote Barns Balcony. (Looks kinda boy band though huh?)
Ohh look, my blue and green outfits have teamed up again. Someone sensibly had some tissues to hand too for the wedding ceremony.


This isn't your 'normal' shot of someone doing a reading, but I kinda like it. Yeah we have the typical shot also, but this is always a nice moment just after they've finished the reading and walk back to their seat. Maybe it's a sigh of relief but this guy has a pleasing smile on his face.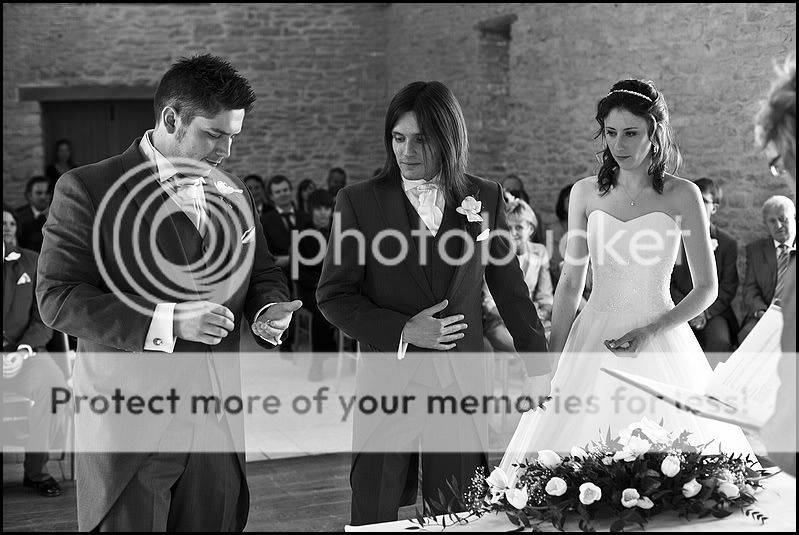 "Ummm the ring......have you remembered the rings?" Yep, check!




Wedding rings on, now for the kissy bit.......


....or the cuddly bit....


....or the smiling at your wedding guests bit.....
.....or even the tender moment (I think that's my favourite from the four).


Now to pretend to sign the wedding register.


OK. This photo. Why is it one of my favs? Well? I'l often take shots of guests taking photos of the wedding couple.....after all that happens A LOT on a wedding day. But this set up is fantastic. Out of the 9 subjects 8 are in dark clothes (and mostly men). One isn't! Out of all these people who should be pointing their camera in a completely obscure direction - which to me is what makes this photo so much more interesting? What is she taking a photo of????


Priceless....what a great way to greet the wedding couple.




Inside Kingscote Barn laid out ready for the wedding breakfast. I loved the buckets of tulips on each table.....but they are my favourite flower (can I say that as a man?)
Green is back. These nicely tied name tags looked really sleek on the wedding table.....as did the printed table plan, framed and mounted on a easel. Who did these for you Jess, it'd certainly be someone I'd recommend?
The wedding cake.....or cake(s) in this instance.


I'm often asked 'when I take the couple portraits' during a wedding day. Well, let me answer that one. Whenever the time is right.....which basically depends on weather, light, and a multitude of other things which I consider on the day itself. BUT.........more often than not, there is often chance to steal 5 mins with the couple as guests go in to sit for dinner (eh voila.....the point when these two photos were taken!)


A lovely expression as Jess looks on during her dads speech.




Guests form an important part of the wedding day so I like to include plenty of informal shots of them too.


Cue cards.......now did he ad lib a little too?


Two best men - the other wedding trend I'm seeing more and more of lately.