Barnsley House, what a cracking wedding venue. Not only is this the perfect Cotswold Wedding Venue, but on a warm spring day, with a lovely couple and incredible guests you simply can't get much better than Will & Kellys wedding.
It was a wedding with yet another international contingent, with Wills (aka Bill) family coming from America, and Kelly's being from South Africa. It was only a small wedding (by some standards) with around 40 guests. This made it an intimate affair and the day was very well planned, with the ceremony at 4pm, evening dinner around 6pm, followed by drinks outside at eight. I'm sure more weddings should follow this theme, so if you're reading this and have a small wedding it's certainly worth considering.
So without further ado, get a coffee, sit down (as I've gone waaaaaay over board on the number of photos featured) and take a look at some photos from the wedding.
I've photographed a couple of weddings at Barnsley House before, but never have I covered an outdoor wedding ceremony......and what a day for it - prefect.


Wedding shoe detail photos. Not every bride wants or even likes them........I however decided to take a couple of options on this occasion - so (a) or (b)? You get a little more flavour of Barnsley House interior design in (b)........so for that reason it gets my vote!


Why do curlers amuse me??? I don't know, but for some reason they make for a fine photo IMO.
Williams sister was blowing kisses at her son after he woke up from his afternoon power nap!
The boys were great fun to cover and with them only being 20 paces from the bridal suite it was super simple to stop by for a few pre wedding shots.
You may like this photo, you may not, but it has a sense of movement (as Will puts his jacket on) and I kinda liked it!


It's soooooooo tiring having your hair done huh!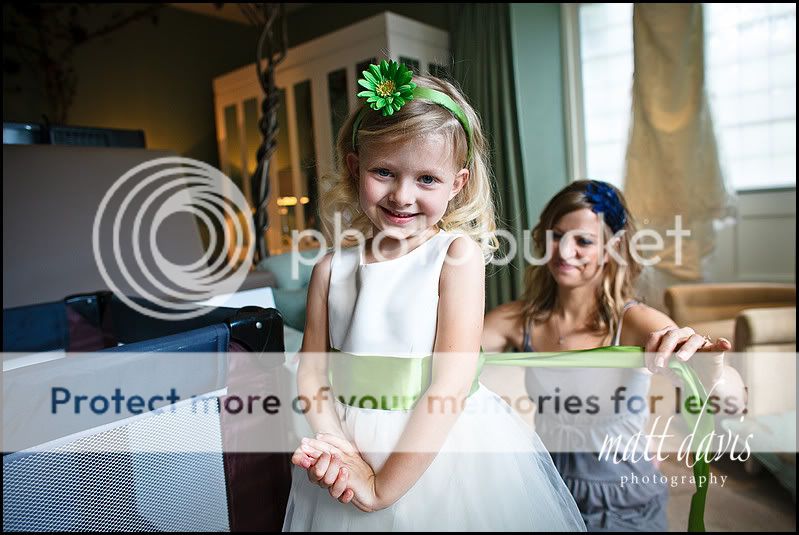 Will and his sister


I'm seeing a green theme for bridesmaids again. Must be the 4th or 5th wedding this year. Works well in the garden setting too huh?
Dum dum de dum. More a stroll across the garden than a walk down the aisle.


For those wishing to know, it's not always possible to get a photo of the 'ring going on'. Why.....welll too many hands, people and too much bad light usually make it impossible. This time it worked a peach though.
Possibly one of my favourite photos from the wedding.


To read more, CLICK on the left hand side link.
Will and his mother-in-law.
What a cute bridesmaid hairband.


It only took about 100 shots to get one half decent one of these three (almost all looking/smiling/happy!)


I've seen some really neat button holes lately, this one was up there with my faves.


The two bridesmaids and little paige boy were clearly popular with Will and Kelly.
Inside of Barnsley House set for the wedding breakfast. Or in this case dinner.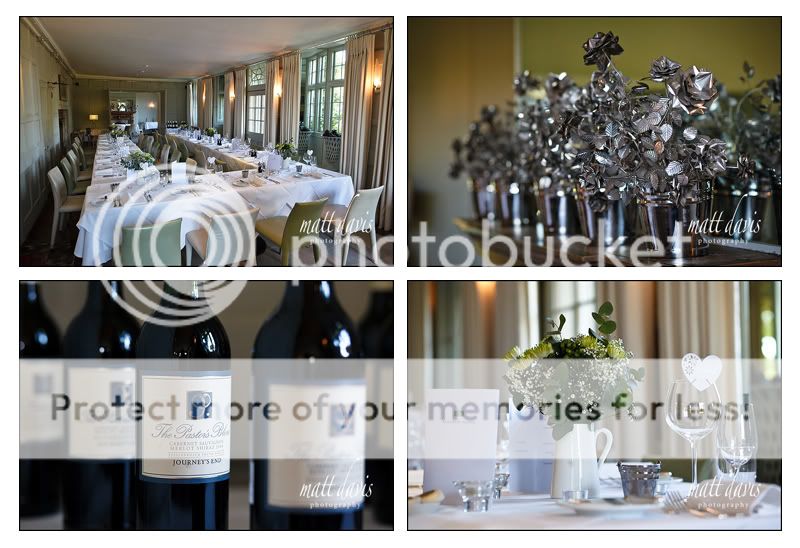 I've seen these heart wedding details before and thought how neat they are....certainly a simple way to mark the place names for guests.


The famous Laburnum in Barnsley's gardens had bloomed early this year, yet despite this the location still made for a great wedding portrait.


Kelly had these lanterns fixed up by Natalie (the super wedding planner at Barnsley House) so it was only fair to get a shot with them included.


Great face huh?


Unusually, both Kelly's dad (Father of the bride) AND Wills Dad (Father of the groom) did speeches.


I love this sequence of shots (above) with the first being one of my favourite speech photos in a while. The best man did a great speech, full of energy and it was great to listen to.


Tears....do I detect tears from the groom?


After dinner guests headed out to the 'ornamental pond' - (is that what it was called?) for drinks & coffee. Such a nice set up and the fine weather helped.


Last but not least an evening shot of Barnsley House, with what I can only assume are stars (or is that dust on my lens?)
If you wish to see more Barnsley House weddings, then please visit my website www.mattdavisphotography.co.uk