Time to show a few more photos from my recent winter wedding at Clearwell Castle, Gloucestershire. But first a did you know fact - last year Clearwell Castle held 260 weddings - FACT. I know, that's remarkable huh!
With my Guinness Book Of Wedding Records out the way, onto the details about Stuart and Lauren's wedding day itself. I'd met Lauren in 2008 at her brother-in-laws
wedding in Tetbury at The Great Tythe Barn
. I was the photographer and to all intensive purposes at the time of meeting she was the child minder to her 'other' brother-in-laws children. So, you get the idea, I bumped into her at a wedding. Anyhow, fast forward a few years and here I was shooting her wedding - how cool is that. I love recommendations, and it's always nice to meet familiar faces at the wedding......and in this case I found out my previous clients 'Matt & Anne' are expecting too - so congratulations!
So here we have it, an exclusive insiders view to the fabulous wedding of Stuart and Lauren at Clearwell Castle. DON'T FORGET to click 'READ MORE' at the bottom of this post, to take you deep inside the world of
documentary wedding photography
. Ahhh...ok, really just to read the rest.
Clearwell Castle - or at least a tree with sign hanging from it. Yep, it's winter folks....today will be a fair few black and white photos, mixed with a splash of colour. It's all about light, emotion and composition this week.
Lauren looks on from the Castel hideaway (that is the bridal suite) as guests arrive and bridesmaids walk across the car park in pjyamas and dressing gowns - stylish!


"ummm, nice wedding dress".....meanwhile the pyjama wearing bridesmaids have arrived for make-up duty.




The blusher brush gets 'em every time.
I love this shot - why? Check out the under age drinker with her 'imaginary' champagne - classic.




I also love this photo on the left. It's got a whole page to itself in their wedding album design too.


I'll bet the boys aren't having this much fun - even putting a necklace on is a laugh. Note: bridesmaids 'correctly' dressed now and checking out Laurens booty.


I've not seen wedding flowers with long stems like this before. Or at least not long stems and such a delicate bouquet. OK, I've just re-read that back and it does sound a little camp.....honestly I'm all man, just mixed up in the female wedding world.


Yep, that'll be inside at Clearwell Castle set ready for the wedding ceremony. Just follow the red strip of carpet if you're unsure where to go.
Great, great, great expressions. He's the cat that's got the cream - love it.!


ta na - here's your marriage certificate....now which pocket of your dress will you pop that in?!?!




The paparazzi. Now check out Stuarts little niece's camera - what an earth is that? I'm feeling very old school with a DSLR - is this the facebook generation?


This photo kinda almost looks awkward, but I love the grouping of all the sets of guests, each individually interacting.
Nice idea for a table place setting. Ahh yeah, that's what it's called a SEATING PLAN Matthew!




My assistant photographer getting a nice angle on the groom. Tilting your head when taking photos is also a nice technique.
This little chap was autistic and spent most of the wedding reception walking around and around and around and around (you get the idea) the wall outside the castle. It was pretty boring to see the wedding couple take the stairs....come on guys, live a little!


I have this favourite photo.....BUT, then I took a few more. It's soooooooo hard deciding sometimes? Which is best A) above, or B) below? Cast your VOTE in the COMMENTS at the bottom of the page.


Dinner is served....and it was a very nice Lamb shank.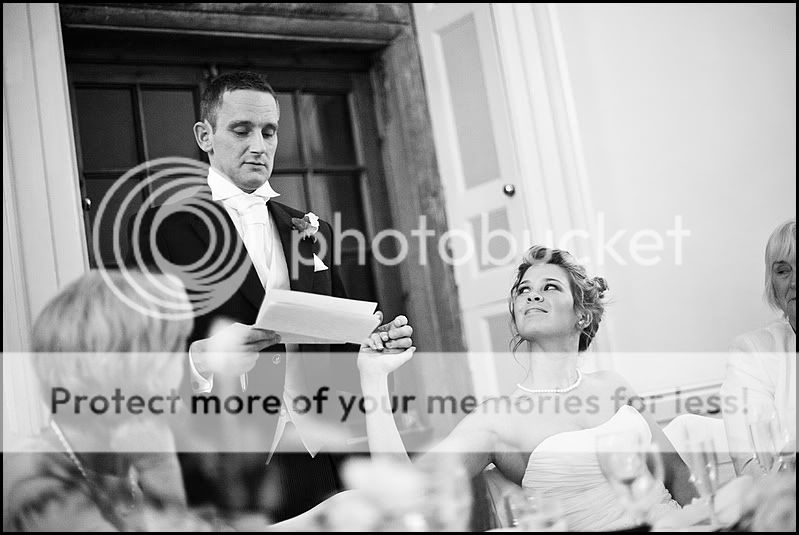 Stuart, otherwise known as Golden Balls.......


.....but is he a cheap imitation, or the real deal - guests were left to vote following evidence provided by the double act best men.


Stuart clearly paid this guy to say that....I'm with the bridesmaids on this one.
Good night all.....I've left the Castle, onwards to another wedding - watch this space for your next installment.
If you've enjoyed these photos and are looking to have your own wedding here, why not check out several other Clearwell Castle weddings on my new website.