We're at the Manor House Hotel, Moreton-In-Marsh this week for the wedding of James & Fran.

If you've not been to the coffee machine, or think you'll just skim read this blog post and get a drink later, I suggest you boil the kettle first, THEN sit down. My best intentions are to try and pick just 30-40 photos from each wedding for a blog post........but I failed BIG TIME on this occasion. In fact, if you need a wee too, consider that first as well. Eighty five (ish) photos and a lot of Matt Davis waffle can take some time to wade through.

Don't forget, at the midway(ish) point there is a 'sneaky little tab' to press that says READ MORE. I guess you could use that as a suitable time to pause and pretend to get on with some paper shuffling (if you're browsing this in work time) or to let the dog out the back door as tonights walk is cancelled.....just make sure you press it though....as really 20 photos isn't enough......you will need more!
This doesn't need explaining does it?
Manor House Hotel, Moreton-In-Marsh
Make-up and champagne. A simple cocktail to start any good wedding day.


Wedding hair was done by the ever so lovely, beautifully softly spoken Anna White. Shown here on the left - drinking on the job ;-)
For this wedding we have one bride and two bridesmaids. Did you guess that?


Wedding flowers were provided by Natasha Wilkes at flowersarefabulous. Fran spotted one of her beautiful brightly coloured wedding bouquets at my Kingscote Barn wedding last year and got her details as a result.
What a super window to photograph Fran's wedding shoes in. Better too for not including the 'pop up camp bed' that was just beneath it.
This may need some explaining.........
Man arrives at door....turns out to be husband of bridesmaid
Man looks at bridesmaids hair and plucks out a single grey strand!
Bridesmaid looks horrified. :-0
(Bridesmaid is possibly equally horrified that I've put it up on my blog too - sorry!)
Is putting on shoes a funny activity?


If you're gonna be a bridesmaid you MUST look your best. No deodorant marks and it's imperative to have nicely moisturised skin - go girls!
"owwwww you look soooooo luverly". (Is Becky from Summerset - I think not?)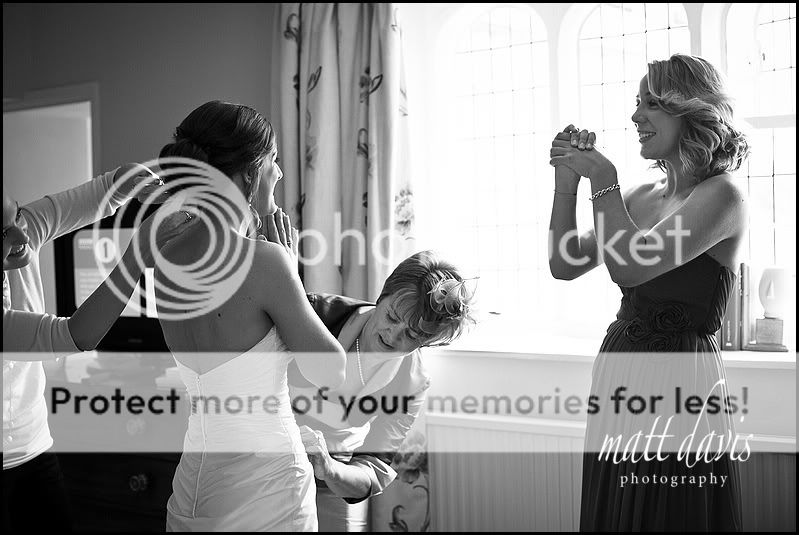 Love, love, love, love, love the hands in this photo.


Ohh guests arriving....step back from the window in case they see you!


...right mums off to get seated for the ceremony. Any last minute words of wisdom?


Final application of lip gloss.


One eye, one smile. I rather like this photo.
Hang about.....you're meant to be keeping away from the window, not back at it to look again.......who is it this time?


Inside Manor House Hotel, set ready for the wedding ceremony.


Ever wondered why it takes me 2 mins not 30 seconds to take a photo of some flowers? It's called 'indecision' and here's a super example! Left or right - which do you prefer?
I'd be smiling if someone pinched my bum at a wedding too :-)


[start of rant] Fran requested with the registrars that I was allowed to take photos during the ceremony.....which for all intensive purposes 'on face value' appeared to be okay. I chatted with one registrar who gave me instructions not to take photos during the 'vows', which isn't ideal but I can deal with.
Next up was signing of the register (the real thing!). The bit registrars get all 'funny about'. I'd said I'll take photos as the actual signing is going on but not include any 'words' (aka detail from the main register) which was agreed..... until part way into the signing when a U-Turn took place and they asked me not to take any photos? eh?
This may be a rant, but please please please, registrars who think I have an interest in photographing the words on the register itself, then publishing the info on the internet for someone to see....think again!
The shot above and below could have been taken during the actual signing of the registrar (if it were not for unnecessary rules preventing me). You can't see the register, the point of the focus isn't the register, so perhaps let photographers take photos, and registrars could stick to marrying the couple! [end of rant]
Now click 'READ MORE' to see the later highlights.


Occasionally straws fight back...or does Fran have a unique way to drink Pimms?
Ahhh that's better....but only just!


I didn't realise at first, but the guest here in the 'beige' dress (note: I'm a bloke, and will stand corrected if it's 'camel', 'nude' or some other colour that we just don't know exists) was in fact a bridesmaid at a wedding I photographed a few weeks ago. Small world huh? Okay, so this is interesting if you're me or her, but for anyone else reading this, apologies and please wake up again now!
I take a lot of photos of guests at weddings. It's a key part of your wedding IMO and is one reason many couples select me as their photographer. You do need time to do this though, so think again if you're considering an A4 list of group shots but want 'natural wedding photography'.
If this isn't enough though, take a peak at a few more up on my FB Business page.
What did people do at weddings before iphones?
The young'er' possey. One with quite a spring in her stride!


Ever wondered what you're wedding guests will be doing whilst we spend 10 mins taking some intimate 'couple portraits'. Well.......if possible they'll stand nearby, watch and laugh at you!
A becky and Sarah(?) sandwich. Them boys were lucky. Apart from Adam(?) who had little interest in the ladies!


Is it just me or does anyone else think Becky looks like Farrah Fawcett?


Back to the gate the gardener told me was good for photos!
Inside Manor House Hotel set ready for the wedding breakfast.


Ahh here's Adam(?), showing where his true feelings lie!


My assistant photographer stood right in front of me - perhaps cover a different angle I thought? At least he's bouncing his flash :-)
Now if you don't know about this drinking game look and listen. Get your table to choose a word (like Bride, Fran, Wife etc) write 'em all down, stick 'em in a hat then pass them back out randomly. As speeches commence, down 2 fingers of your drink for each time your word is mentioned. Simple.......and very unfortunate for the lady who got 'Fran'!
This lady however certainly didn't need any words to enjoy the champers! Hot day, not much to eat and a few glasses of wine later........ :-)
Simple and certainly one of my favourite guest photos from the day.


Another shot of my favourite 70's sweetheart!
"Ummmm....what's happening here then?"
The best mans speech was very funny. Take note: one liners from the internet are a definite no no for speeches. Free style speaking, including 'close to the bone' comments about your mates is MUCH MUCH funnier.


Is this James' "I've been found out on my wedding day" expression?


Blokes show their affection in special ways.
.....and because the sun came out after speeches we nipped out to get a couple more portraits - with a few less guests watching.
Now, if yo've gone to the effort of reading all that (an enjoyed it!) spread the word and click on the 'like' button to get a link onto your FB page. Someone from this wedding must be engaged and looking for a wedding photographer surely?